Will Super Bowl Deliver After a Wobbly Regular Season?
01.31.2017
The past three Super Bowls were the three most-watched US television broadcasts of all time, and in-game ad spending rose to new highs each year.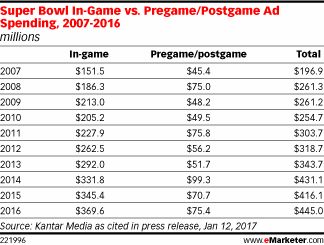 But this year has been something new for the NFL, as ratings and viewership through most of the regular season slipped from year-earlier levels. Meanwhile, conversation about the sport seemed to center more on player injuries than game scores. In Google search, the phrase "how many NFL players" is autocompleted this way: "How many NFL players have CTE," or chronic traumatic encephalopathy, a degenerative brain disease.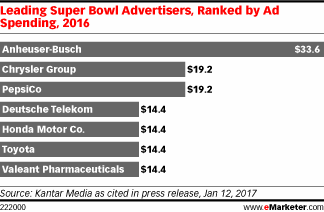 Amid increasing debate over injuries, audience levels improved in the final weeks of the season but ratings tended to be down for the playoffs.
Here's a look at the ad spending patterns over the past 10 years, according to Kantar Media. Total in-game ad spending reached a new high of $369.6 million in 2016, while total spending, including pregame and postgame dollars, also reached a record, at $445.0 million.
Anheuser-Busch was the biggest spender in 2016, with outlays reaching $33.6 million. Chrysler Group and PepsiCo followed, with spending of $19.2 million each, while Deutsche Telekom, Honda Motor Co., Toyota and Valeant Pharmaceuticals each spent $14.4 million.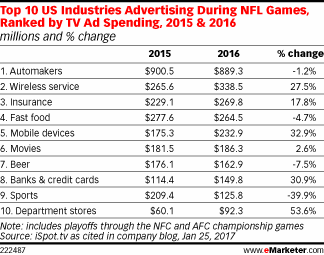 iSpot.tv found that automakers were the biggest US industry ad spenders during the 2016 NFL season, more than doubling the amount allocated by the wireless industry. Insurance, fast-food and mobile device advertisers rounded out the top five. In total, advertisers spent $2.7 billion on advertising during NFL games in 2016, up 4.7% from $2.6 billion in 2015.
- See more at: https://www.emarketer.com/Article/Will-Super-Bowl-Deliver-After-Wobbly-Regular-Season/1015135#sthash.ifc7iqmI.dpuf